I wanted to look at the textures of barks as this resembles growth creating destruction with strain, here we can see buds sprouting from cracks. This will be inspiration for my sightless final piece.
These are some transfers from the barks.
These are scans of quick sketches I made from forms I found in the park, I used ink and charcoal.
I enlarged my ink drawings and started to outline freely with marker pen, we can see sightless forms on the other side of the paper then. I also used the ink again with a stick and started adding texture similar to the bark and seeds where all the dark shadows were.
For this sightless project I've looked at organic forms similar to seeds and pods as I've been seeing them a lot lately on my walk into university, I'm fascinated with how seeds can transform and develop into the most beautiful forms.
During our tutorial we were talking about the ceramic department going to see Yorkshire's sculpture park, I've been to the 'Kröller-Müller' sculpture park in Amterdam and I loved it so I was curious to research who's work was in Yorkshire, I came across Henry Moore's work and they looked like sightless pieces.
Large two forms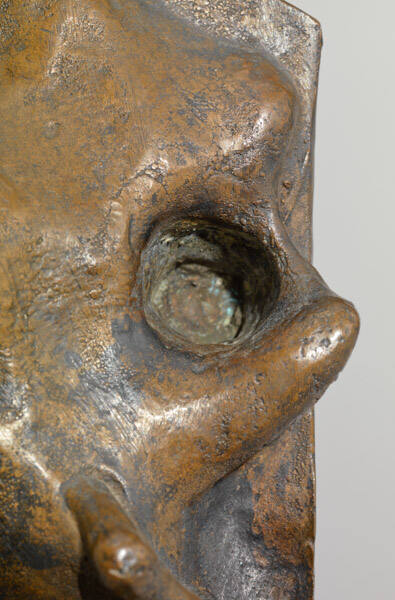 Three Piece Reclining Figure No 1
These made me think of what I could use to cast out of which would allow me to be very flexible in the form, I've never done casting before coming to university so I would like to experiment a lot with it. The most flexible material I've used to cast was the Vinamold  but I wouldn't be able to manipulate it after pouring, I would need to create a new cast for each form which would be very time consuming. I thought of other types of rubber materials I could use and I thought of a balloon, it's thin and light and i'll be able to manipulate it after plaster has been poured.
I used a variety of giant and small balloons to cast, I used rope to create indentations in the form by wrapping them tightly around, while it was half setting I would squash the balloon and start again to try get as much texture as I could. I had to work very quick as plaster setts very quick, it was setting too quick to work with so I started to add less powder to the water and it gave me much more time to play.
  I started adding objects underneath the rope to see how they would turn out.
This was from the giant balloon and we can see where the air pocket was that it's started to crumble, this reminded me of Eleanor Lakelin's work which I saw at the Craft Fair in London, I researched futher into her work and I thought her work was actually made from plaster/ceramics but it's made from wood! I was amazed by this, they look intricate and delicate as if she casts them from organic forms.
Elenaor's work from the craft fair.
These were from the smaller balloons, I'm not sure if I like them as much as the bigger casts, the others looks more organic and raw with their imperfections. I definitely don't like the second cast where I've added objects as it takes the element of organic away, maybe I'll try again with a variety of materials to see if they looks any better.